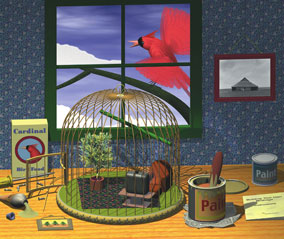 Birdcage: I like telling stories and find it easier to do in 3-D than with photography. This is a story of someone who wants to entice a cardinal to be his pet. Modeled and rendered in form Z.

From photographing in Long Beach, New York, as a child with his father, Peter Neumann progressed to shooting and printing his own large-format black-and-white landscapes. Next came a career as a commercial studio still-life photographer. When this work began migrating to digital, Neumann waded into Photoshop and produced corporate projects with it until discovering his true medium, 3-D digital illustration. His work has appeared in Forbes, Art Business News, Upside Magazine, CFO Europe, the American Management Association, Graphic Arts Monthly, Executive Edge, Corporate Finance, Global Investment Magazine, and annual report projects for the Federal Reserve of New York and the American Federation of Teachers. In addition, Photo Trade News, Micro Publishing News, Photo Electronic Imaging, Digital Imaging, and Japan's i Magazine have featured his 3D. His landscape images have been exhibited in several U.S. galleries and are included in the collections of the Brooklyn Museum of Art, Pfizer, Bloomingdale's and several private collections. His 3-D image Absolute Hangover was in the Brooklyn Museum's 27th exhibition in its Print National series, "Digital: Printmaking Now."

I asked Peter about these transitions at his studio in the heart of New York's Photo District. As he pointed out, it's now also the home of Silicon Alley, full of dot-coms and other digital enterprises. While he creates illustrations in his digital studio, he rents his photo studio across the hall and rents out his darkroom when not using it himself for his personal fine art black and white landscape work-because the focus is clear: 3-D has taken over his creative life.

Photo Insider (PI): When did you start photographing?
Gas Pump: The Pump, lamp and road were originally done for Convenience Store News Magazine. I wanted to add something to the image and saw the perfect building at a Walker Evans exhibit Evans's love of old signs also inspired this image. Modeled in form Z and rendered in Electric Image.

Peter Neumann (PN): As a child in the 1950s, my father and I would take bicycle rides around my hometown of Long Beach. We'd carry a Plaubel Makina, 6x9, folding camera with archaic film packs and take pictures of each other. We shot with an 8mm movie camera, too. My father also traveled a lot to Europe on business and would show slides when he returned. He was a glove designer (the actress Joan Crawford used to wear his gloves) and an excellent oil painter. Photography was always a part of our family.

PI: What did you study?

PN: My path to photography wasn't a straight line. I majored in literature at Northeastern University in Boston and spent years learning to play guitar and compose music, which I still do.

PI: When did the idea of professional photography enter the picture?

PN: In 1979-80, after a brief foray into photojournalism, I bought a 4x5 Deardorff view camera and began shooting landscapes. At the time, I was earning my living at a clerical job at the United Nations.

In the summer of 1980, I took a long vacation camping out west with the 4x5, shooting landscapes in black and white. It was an amazing thing to travel across the country looking for beauty.
Homage to Irving Penn: This is a 3-D version of his still life After-Dinner Games. Modeled and rendered in form Z.

PI: How did you learn large-format technique?

PN: On my own. I read everything I could, and I shot a lot. In Jackson Hole, Wyoming, I went to a gallery where I met a photographer, Ed Riddell, who was shooting landscapes and still life and interiors. I thought, "This is incredible. You can do this as a living." That's how naive I was. I kind of took photography for granted. I saw it as just being part of life...thanks to Kodak and my father, I guess! When I came back to New York, I stayed on in my job and took another long photography trip the following year. After that, I quit to pursue photography full time. At first, I shared a studio with another photographer.

PI: What type of work were you doing?

PN: Still-life, tabletop shots of products like handbags and clothing. These demanded the most minute attention to detail and contrasted dramatically with the monumental scenery I loved photographing out west.

PI: How did you learn studio lighting?

PN: The person I shared the space with, Stephan Tur, was very helpful and showed me a lot about studio technique. But it was a slow learning process. Eventually, I started getting better. I took over the studio myself, buying him out in 1984. I continued to do my personal landscape work and was exhibited in various galleries.

PI: How did you get the commercial clients?

PN: I had been a marathon runner and I applied that mentality to marketing, logging as many visits and portfolio drop-offs as I possibly could. I talked to other photographers, I used the phone book, and ad agency listings from reference books at the library, like the advertising agency Red Book. A lot of research went into developing a database of clients.

PI: How did you move to the next step?

PN: It started when I wanted to put an ad in the Workbook. A rep came here and looked at my work and said, "I think you should wait until your still life starts to look like your landscapes." After my initial shock, I decided, "No more products, I'm just going to shoot what I want to.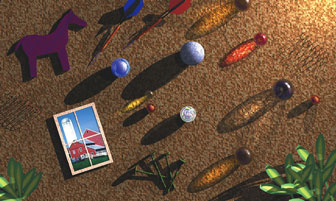 Marbles in 3-D: I wanted to see if I could get the feel of my marbles photograph using 3-D software modeled in form Z and rendered in Bryce.

"I was trying to find a style because I knew that, ultimately, it would get me more work. I began doing still-life compositions with handmade paper backgrounds and objects that I found. My images became more imaginative and off-the-wall, much more interesting. At this time, conventional photography business was starting to drop off because of the digital revolution. But I wasn't paying much attention due to illness in the family. By about 1993, though, I decided that it was time to make some changes. So I took some classes in Photoshop at the School of Visual Arts in New York City. I didn't even know what a mouse was then, but I really got turned on by Photoshop. A photographer friend, David Chalk, was doing really beautiful work in 3-D and was a tremendous inspiration to me.

PI: By "3-D" you mean three-dimensional digital illustration?

PN: In Photoshop, I didn't feel that I could create certain effects and make the results look real. I wanted to work in an ideal environment where the shadows were natural, and that's what 3-D is. With 3-D software programs, you make a shape, like a sphere, and you give it attributes such as bumpy or shiny, and choose a color. Then you put that object on another surface which has another texture. When you put a light on that object in a 3-D program, it's going to cast a shadow that looks totally real.

One day, working with an early 3-D program called Alias Sketch, I discovered that I could turn off the harsh, straight-on default light source. Exactly as in a real photo studio, I found that I could add lights in different positions. I just about jumped out of my chair and said to myself, "This is like still life. I know this."
Marbles I shot with an 8 x 10 view camera using chrome film and lit with strobes.

PI: Which 3-D programs do you use today?

PN: From Sketch I moved to Strata Studio Pro and Bryce. I now use form·Z, which is a really good modeler. A modeler builds shapes. Form·Z is great for architecture and shapes that are geometric rather than organic, although that's changing fast. It's often used in conjunction with another program, Electric Image, which has a very fast rendering engine. Rendering is when you ask the program to take the shape, texture, and light information and apply it, pixel by pixel, to create the final image that looks like a photograph or a picture. I am now learning Lightwave, too.

Back in the early days, I was doing a relatively small illustration for a magazine, 4 by 5 inches. I decided that I would let it render overnight. When I came in at 11 after a run the next morning, the rendering was only 59 percent done. In order to make my deadline, I switched to Electric Image. With this program it took all of 15 minutes to render the entire image! I was converted. Now, I do my modeling in form·Z and then either render the image in Form Z's RenderZone or export the file to Electric Image, Bryce, or Lightwave where I apply surfaces, textures, and lighting effects. Electric Image is used a lot in movies like Star Wars. It is a gorgeous renderer. The colors look beautiful.

PI: How do you describe what you do?

PN: I call myself a conceptual 3-D digital illustrator. At one point, I had a moment of conversion when a client I had been doing conventional photography for agreed to let me do an illustration. She asked me to illustrate a concept. Thinking about how I was going to show this idea, coming up with sketches late at night in bed-I had never had an experience like that in photography. Clients always came to me with layouts, with preconceived ideas. I did beautifully lit photography with great art directors, but they did the concepts. And they selected, or oversaw the building of, props. I just executed the photograph.

PI: Now you're creating the idea.

PN: That's what I started doing with my still life before I weaned myself from the photography world. It's taken me years to learn the technique of 3-D, but I feel more and more fluid every day. My lighting's getting better, and I can create props on-screen that would cost a fortune to have a model builder make. One's attention to detail, and the magic of seeing the real world, is taken to another level after learning how to work in 3-D. You look at things differently.

PI: When you made the transition to digital, how did your marketing change?

PN: First, I bought a studio management program called PhotoByte and transferred all my client information into its database. I got hooked on the idea of illustrating magazine articles. I love doing it because of the great freedom. Granted, it doesn't pay as much as some photography. I go to newsstands and bookstores, foraging for new publications that I'd like to work for. Then I go home and call the art directors. Some years ago, I'd mail my portfolio as a slide show on a floppy disk. But I'd never send something unsolicited-I'd call somebody up and get them to say they were interested. Then I'd mail it and call to be sure that they got it and that the disk worked. Often the disk would be ruined in the mail.
September 2001: September 11 left me pretty speechless. This image sums up how I felt at the time. I also used this illustration as an opportunity to get better at using Lightwave. Modeled in form Z and rendered in Lightwave.

PI: So what do you do today?

PN: Because of the high casualty rate for disks and because the new Macs don't have floppy drives, I moved to the Internet. Marketing is about presenting your work in a way that is quick and easy. About four years ago, I did a Web site, www.peterneumann.com, which showcases my work.

PI: Did you create it yourself?

PN: I did it myself for two reasons. It was cheaper, but primarily I felt I had to have the experience and familiarity with what was happening on the Internet.

PI: How do you get people to see your site?

PN: I telephoned everyone in my database and got their e-mail address. Now I send them images periodically via the Internet.

PI: What equipment do you use and why?

PN: I use the Mac because that's what I learned on and it's the platform a lot of digital illustrators use. I use both a mouse and a Wacom tablet.

PI: Do you use digital cameras at all?

PN: No. Generally, I don't use photos except as reference to draw from, or for image maps to be placed on 3-D objects.

PI: For a digital illustration assignment, could you please describe all the steps from initial contact to delivery?

PN: Either I get the job via e-mail or by telephone. The client has an article or an idea that they want me to turn into a visual. They fax me the article, I read it and come up with some ideas. For instance, I was recently asked to do an illustration of binoculars with a computer reflected in the lenses with a strong perspective. I look for related pictures, like old and new styles of binoculars, on the Internet for reference, for ideas, and for accuracy. Also, I use my own visual reference books.

Then I come up with two or three different versions and make preliminary images, called roughs, in form·Z and render them at a low resolution: 72 dpi (dots per inch). After saving each image as a JPEG, I compress it with StuffIt and send it to the client via e-mail. You can also insert a .jpg image in the body of an e-mail letter without compressing it. After reviewing my preliminary images (and we may do this a few times), the art director tells me which version he or she prefers. Then I go back to my roughs, render the selected one in high resolution, and e-mail it to the client, along with an invoice.

To view more of Peter Neumann's work, visit his website.